2023-24 Low Vision and Refraction Clinics
WCBVI is excited to offer Statewide Low Vision Clinics and Refraction Clinics for the school year. The following locations have been selected:
Green Bay – November 9, 2023
CESA 1 – December 6, 2023
Janesville WCBVI – January 10, 2024
West Salem CESA 4 – February 7, 2024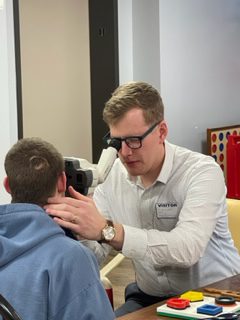 Who are clinics for?
Low Vision Clinics are for school-aged children who have usable residual vision and who have the physical and cognitive skills required to learn to use an optical aid. While at the clinic, students visit four stations: optical exam, near vision, sun filters and distance vision, and assistive technology.
Refraction Clinics are for students with low vision, exceptional needs, and multiple disabilities. It is a slower paced testing and examination clinic geared to the sensitivity and special needs of students. The purpose is to determine if glasses would be beneficial or if a change in prescription is necessary and provide information regarding functional levels of vision.
Low Vision and Refraction Clinic evaluations take place on the same days.
Who should attend the clinic with the student?
Parents or guardians are encouraged to attend with their student, as well as the student's TVI and O&M, paraprofessional, and other members of the student's team. If unable to attend the clinic, parents or caregivers may attend virtually!
How long are appointments?
Student appointments are generally 1 ½ to 2 hours long but are dependent upon student needs. This allows the students, parents, and teachers the time to ask questions and try out devices and equipment.
Please visit the WCBVI events page for information regarding Outreach upcoming events.
For more information, please contact:
If you have questions about WCBVI Clinics, please send an email to: wcbvi.outreach@wcbvi.k12.wi.us