Fall 2021 Virtual Mini Low Vision Clinics
Professional Development
Student Programming
Conferences & Special Programs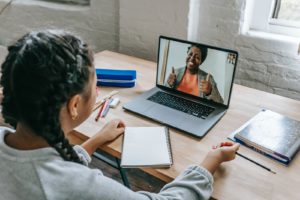 What is a Virtual Mini Low Vision Clinic?
COVID-19 has made it difficult to travel and participate in in-person meetings, however students still require low vision support, whether they are participating in school from home, in-person, or a combination of the two! WCBVI will provide FREE support for students with low vision using a virtual format. This clinic will take place over Zoom, Google Meet, or other online meeting format.
Your student will receive recommendations from the following experts on the WCBVI Low Vision Clinic team:
A Certified Low Vision Therapist and Teacher of the Visually Impaired, who can assist with many areas, including lighting, positioning, visual efficiency, and magnification.
A Teacher of the Visually Impaired, who can assist with sun filters, for both indoors and outdoors, as well as distance magnification devices.
An Assistive Technology Specialist and Teacher of the Visually Impaired, who specializes in adaptive equipment for students who have visual impairments. This includes, computers and programs, video magnification, notebooks, phones, and braille devices.
Why is it a "Mini" Clinic?
Due to the virtual format of our clinics, an optometrist would be unable to perform a medical examination and will therefore NOT be a part of this year's clinics.
How Will this Work?
Our Low Vision Clinic team will use the information you provide about the student's visual impairment, functional abilities, home and/or school environment, and goals to develop a plan for the student. The clinic team will meet virtually with the student and members of the IEP team to discuss the needs of the student and recommendations from the clinic team. We will then ship out any equipment to be borrowed by the student on a trial basis, along with instructions for their use. Once the equipment has been received, a follow-up virtual meeting will be scheduled to assist with effective use of the devices and to answer questions.
Please note: When borrowing high-cost assistive technology equipment, such as video magnifiers or braille displays, the team will need to complete a specific form that must be signed by the LEA. For questions on this process, please refer to the WCBVI Assistive Technology Loan page.
Who are clinics for and who can participate in the virtual clinic?
In accordance with Wisconsin statute chapter 115, the Wisconsin Center for the Blind and Visually Impaired provides training, technical assistance and consultation services for parents of children who are visually impaired and for professionals who work with children who are visually impaired.
WCBVI may lend, rent or lease technological materials and assistive technology devices, as defined in s. 115.76 (1), to local educational agencies, cooperative educational service agencies and county children with disabilities education boards.
Any and all members of the IEP team can attend the virtual mini clinic.
How do I sign up for a virtual mini clinic?
Teachers of the blind and visually impaired can sign up a student on the WCBVI website on the Outreach page using the Outreach Virtual Assistance Request Form.
Request a Virtual Mini Low Vision Clinic and staff will contact you within 2 business days to discuss details specific to your request.
Parents, please contact your child's teacher of the visually impaired or orientation and mobility specialist and they can request a virtual clinic for your student.
*We hope to make in-person Low Vision Clinics and Refraction Clinics available for Winter-Spring 2022, providing COVID-19 physical distancing recommendations are lifted.
For more information, please contact:
Alisha Ragainis
608-758-6151