News
Now Hiring Orientation & Mobility LTE Positions

The WCBVI Outreach team is seeking to fill two, LTE O&M Instructor positions for EmployAbility, a five-week summer program. Dates for the Summer EmployAbility Program are June 19-30, 2023, followed by a week break, then resuming July 9-28, 2023. This program includes a "pre" weekend to assess student skills related to employment. The dates for this "pre" assessment weekend program are Friday, March 31 through Saturday April 1.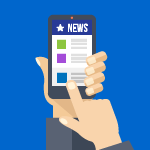 Subscribe to the WCBVI Email List
WCBVI maintains and supports this email list to provide families, vision professionals, and other stakeholders with information regarding events, initiatives, and other important updates throughout the state of Wisconsin.
Employment
Commitment to the education and well being of all Wisconsin students who are blind and visually impaired is our top priority. Discover your place on our team here at WCBVI.
Why Our School?
Learn about the Wisconsin School for the Blind and Visually Impaired (WSBVI) and why our school may be the right choice for your child: