News
Glen Stacey Memorial Fund Committee Accepting Applications

The Glen Stacey Memorial fund was created in 1988, in honor of former WSBVI student, Glen Stacey. The funds may be used for equipment, programming, and projects that will directly benefit K-12 students who are blind and visually impaired and reside in Wisconsin. These activities may not include items or services that school districts are required to provide per a child's IEP. The fund is administered through the Wisconsin Center for the Blind and Visually Impaired (WCBVI).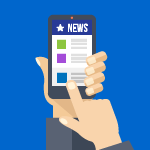 Subscribe to the WCBVI Email List
WCBVI maintains and supports this email list to provide families, vision professionals, and other stakeholders with information regarding events, initiatives, and other important updates throughout the state of Wisconsin.
Employment
Commitment to the education and well being of all Wisconsin students who are blind and visually impaired is our top priority. Discover your place on our team here at WCBVI.
Why Our School?
Learn about the Wisconsin School for the Blind and Visually Impaired (WSBVI) and why our school may be the right choice for your child: