Short Courses
All short courses are currently being held virtually.

In order to promote, facilitate, and provide appropriate educational opportunities for all Wisconsin children who are blind or visually impaired, regardless of their educational placement, Outreach staff offer Individual and Group courses with an emphasis on the Expanded Core Curriculum (ECC).
Individual Short Courses
An Individual Short course is when a student receives direct instruction from a Short Course instructor on one or more areas of the Expanded Core Curriculum at the Wisconsin Center for the Blind and Visually Impaired; instruction is driven by goals from the student's IEP. An Individualized Education Program (IEP) meeting is required for an Individual Short Course if the course is longer than ten school days.
Group Short Courses
A Group Short Course occurs via one of two channels:
A student is signed up for a pre-planned short course, such as a "Winter Weekend." These pre-planned short courses are on scheduled dates throughout the school year and are held at the Wisconsin Center for the Blind and Visually Impaired in Janesville, various locations in Wisconsin, or virtually.

A program is selected from our menu of pre-planned Short Courses, which are available to be hosted anywhere in the state of Wisconsin or virtually! If hosted somewhere other than Wisconsin Center for the Blind campus, these group short courses will be held on weekends or a maximum of three days during the week.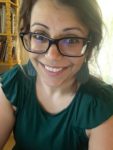 For more information, please contact:
Meghan Fredel
Teacher of the Visually Impaired & Certified Orientation & Mobility Specialist
Phone: (608) 758-6100 x4926
Toll Free: 1-800-832-9784 x4926