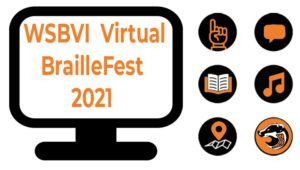 We are excited to announce that we will be hosting our first ever virtual BrailleFest event in April! This month-long event will take place every Monday evening, April 5-26, 2021 from 6pm-7:30pm.
All students from around the State of Wisconsin who are blind or visually impaired are invited to join us as we come together *virtually* to celebrate all things braille! More information can be found in our brochure at the link below. The online registration form is also available on the first page of the brochure and at the link below.
If you have any questions or would like assistance with accessing the brochure or registration form, please call Anna Heesen at (608) 758-6110 or toll free 1-800-832-9784 x6110.
We hope to see you there!
Virtual BrailleFest 2021 Brochure